What poets write, reflects their creativity and experience. So does cooking for that matter. Or, in my case, painting. Painting is sensuous and its rich vibrant colors and texture make us (sorry, me 🙂 ) want to taste the delicious enjoyment of applying it to paper. Do you think you need inspiration to paint? If yes, then just look at your brushes and collection of colors and you will want to use them right away. Well, I would 🙂 If you are ever feeling low and looking for some inspiration to cheer you up, dip a brush in lush colors and just make a few strokes without thinking about what to paint. Brush, canvas (or paper), colors and action! It's not that simple, you might say. But it is!
It is not about getting it right
In my opinion, every person can paint. However, some people think that they cannot. Painting your imagination helps you in taking first step towards your journey into unknown lands. It is not about creating the best piece, its about enjoying the process. One thought which might be wandering your mind is that "I don't feel creative today." If it happens, then all you need is a blank piece of paper to brush your feelings, emotions and sentiments onto it. You don't need a theme to paint, just go with the flow and it will feel right.
Finding inspiration
If you are still looking for an entry point to create something as you do not feel comfortable with going with the flow, then let's see where inspiration might come from.
Being inspired helps in giving a vision to the painting (or whatever you would like to create). This means if you are walking around your home town park, you might want to paint that building which is visible through the trees. Or you might want to paint the kids having great time at the park play ground or the blooming buds shining at the time of sunset. Besides the walk in the park, inspiration could be found in an old book, in a collection of pictures, outside your window and anywhere else around you. All you need is to look closely. Be present and mindful about your surroundings. You need not wait for something to happen, look around and be inspired!
Browsing through photos
Photos are the best medium to recall past moments. If you are not good at taking pictures, then inculcate a habit of taking pictures. No need to be perfect here, just take a picture regularly and create your own collection of visual moments. It is always better to use the pictures you took yourself for finding inspiration. Because, the moment you look at those pictures, they will take you to that moment and you will instantly feel something. These very personal feelings will add value to whatever you are looking to create. They will help inspiration to find YOU and will inspire your next step.
Observe the things around you
Sometimes we are so caught up in daily tasks and thoughts that we simply miss to notice the beauty around us. Keep your eyes and mind open and the possibilities of stumbling upon inspiring ideas can be endless.
My new collection "OCEAN" reflects these endless possibilities of inspiration when being mindful about the moment. I am a fan of the summer. I have not always been but I am for years now. I love the long light days and the high energy that comes with the light. And summer always is my most creative time of the year. Paintings are just flowing onto the canvas and ideas keep queuing. And I grew up with webbed feet for swimming. Literally 🙂 Besides painting I have been swimming for most of my life and just feel alive in the water. Especially in the summer and warm salt water. Which closes the circle to summer and inspiration all around us and for me resulted in a collection of ten new paintings of the sea from an aerial point of view.
New collection: OCEAN
Especially this year I cannot seem to let go of summer and wanted to hold on to the warm summer air, the light, the vibrant energy with this new collection.
The OCEAN collection consists of ten square format paintings of various colorful layers of acrylic paint, structure paste and ink. There are six pieces in my usual 100×100 cm format and four smaller 30×30 cm pieces.
The harmonious color combination of soothing blues, fresh pure whites and warm neutrals will bring the summery ocean breeze to your sleeping or living room. The pieces work perfectly fine on their own as well as in a combination of two ore more Ocean pieces.
On your wall, the pieces remind you that inspiration is all around when you are mindful about this very moment and that you can always source the energy of the summer and the flow of the waves rolling onto the sandy beach.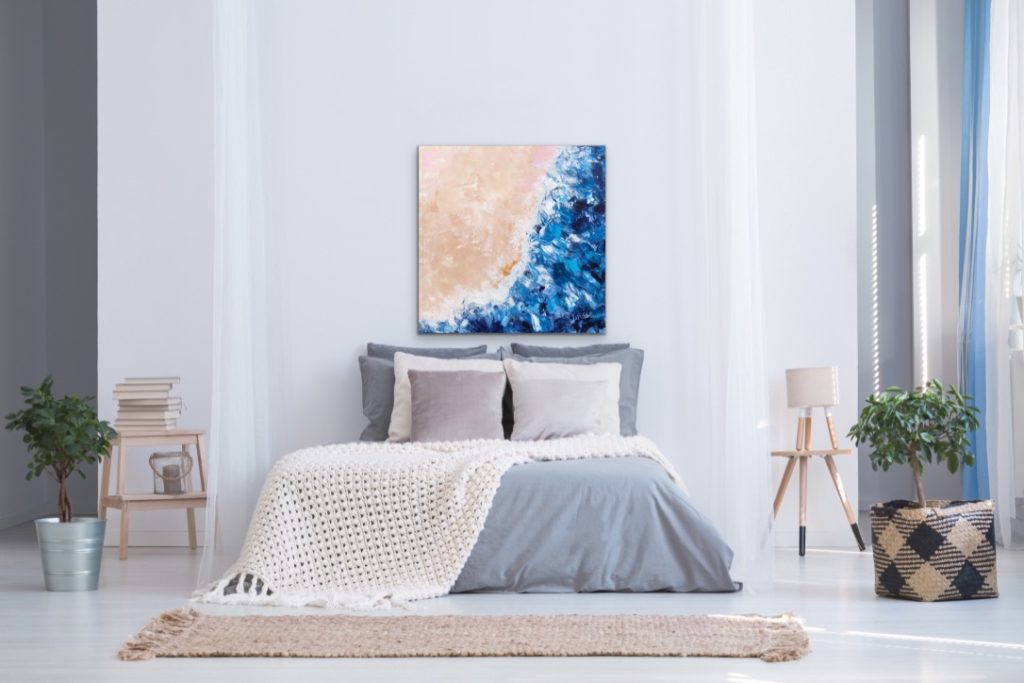 See this collection and other original artwork on my portfolio page.
Prints and other products with my art you will find in my Redbubble Shop. Questions? I will be happy to answer them!
There is more to come
PS: Stay tuned for another new collection of summer art: Under the Sea. Coming soon not just for all divers and underwater world lovers out there!